[size=36]BUSTED: Dr. Fauci caught NOT wearing mask at a baseball stadium after weeks of lecturing us to wear a face mask in public[/size]
MLB finally returned to the field on Thursday. And all eyes were on the defending World Champions – the Washington Nationals. Giving the current pandemic, it's fitting to invite none other than Dr. Fauci to throw the first pitch. So, on the opening day, Dr. Anthony Fauci throws first pitch at Nationals-Yankees MLB opener.
"I'm quite nervous about it," the nation's leading infectious disease expert told the Washington Nationals' Ryan Zimmerman, who is sitting out the season for safety reasons, citing the virus. "OK, well don't worry about it," Zimmerman responded in a tweeted video. "If you bounce it, there's nobody there to boo you. So, you'll be good to go."
Mask for thee, but not for me
After the throw, Dr. Fauci went to his seat. He was seen with two other people, probably his family members, with no mask on. Twitter was ablaze with one user saying: "When he thinks the cameras are off, Fauci makes a mockery of his "social distancing" recommendations and proceeds to brush off his own mask advocacy. "Do as I say, not as I do"
h/t @Ronald_Spitzer"

CoutCali

*






[size=36]Nancy Pelosi seen without mask inside San Francisco hair salon[/size]
media captionUS House of Representatives Speaker Nancy Pelosi says her salon visit was a "setup" and they her an apology.
The most powerful elected US Democrat, Nancy Pelosi, has visited a hair salon in San Francisco, breaking rules that only allow service outdoors, in order to control the spread of coronavirus.
Ms Pelosi was also seen with a face mask around her neck rather than over her mouth. She has criticised President Donald Trump for not wearing a mask.
A spokesman said she did not realise she was breaking her home city's rules.
Mr Trump said she was being "decimated" after lecturing everyone else.
Thousands of California businesses have shut as part of measures to fight coronavirus.
IMAGE COPYRIGHTESALON
image captionSecurity camera footage from eSalon SF shows Nancy Pelosi without a mask on
The footage obtained by Fox News showed the House of Representatives speaker inside the premises of eSalon SF on Monday.
A stylist, who was wearing a mask, was shown following her.
Mrs Pelosi - who always wears masks in public - often admonishes Republicans to "listen to the science" on the pandemic.
Defending her visit, spokesman Drew Hammill said in a statement: "This business offered for the Speaker to come in on Monday and told her they were allowed by the city to have one customer at a time in the business."
"The Speaker complied with the rules as presented to her by this establishment."
Mrs Pelosi has herself previously cited US Centers for Disease Control guidelines recommending that Americans wear face masks in public, especially when physical distancing measures are difficult.
After Monday's appointment, the House speaker appeared on MSNBC with the Golden Gate Bridge in the background.
She told the network that Mr Trump had "slapped science right in the face" last week by allowing an audience of mainly mask-less invitees on the White House lawn to watch his speech to the Republican convention.

The salon owner, Erica Kious, told Fox News she rents chairs to a stylist, who notified her that Mrs Pelosi's assistant had called, saying her boss wanted to come in for a wash and blow dry.
Ms Kious told the cable network: "It was a slap in the face that she went in, you know, that she feels that she can just go and get her stuff done while no one else can go in, and I can't work." 
More than 5,000 businesses in the San Francisco Bay area alone have closed since March, over 2,000 of them permanently, during the pandemic, according to a recent study of Yelp data.
Outdoor haircuts were allowed in California from Tuesday, under new rules announced by the mayor, but indoor salons remain shut.
Senate Republicans suggested the House speaker was a hypocrite.
They tweeted: "Speaker Pelosi has pushed policies that would keep our economy closed and our small businesses shut down.
"But for herself? A salon visit whenever she pleases."
The House speaker has previously said Republicans could help create the conditions to safely reopen if they would only "listen to the scientists".
Mrs Pelosi has also repeatedly criticised Mr Trump's decision to largely spurn face coverings, calling him a "coward" and saying: "Real men wear masks."
The US president reminded the speaker of her statements, vowing to win the House in elections in November.
[size=11]The BBC is not responsible for the content of external sites.
View original tweet on Twitter
[/size]
Last edited by CoutCali on 21st December 2020, 7:25 pm; edited 1 time in total

CoutCali

*






[size=60]
FOX 11 obtains exclusive photos of Gov. Newsom at French restaurant allegedly not following COVID-19 protocols
[/size]

By Bill Melugin and Shelly Insheiwat
Published November 17
Updated November 18


FOX 11 obtains exclusive photos of dinner Newsom attended
A FOX 11 exclusive on a story that has been making headlines across the state and the country. We've obtained photos of Governor Newsom at that Napa dinner party. And we have new information about what was happening.
LOS ANGELES - FOX 11 obtained exclusive photos on Tuesday night of Governor Gavin Newsom allegedly eating at the French Laundry restaurant in Yountville, California at a dinner party he attended on November 6 not following his own COVID-19 protocols he set forth for the state.



Now new fallout on Wednesday evening over the two photos obtained exclusively by FOX 11 Tuesday night showing Governor Gavin Newsom dining at the luxurious French Laundry restaurant in Napa for the birthday dinner of well-known lobbyist Jason Kinney.



More political fallout after FOX 11 photo exclusive showing Gov. Newsom at dinner party
More political fallout as a result of these exclusive photos FOX 11 obtained showing Governor Gavin Newsom attending an expensive dinner party. Tonight, we're learning more about who else was at that party including two top California medical officials.



Not only do they call into question Governor Newsom's explanation that the dinner was outside they also reveal that two high-level members of the California Medical Association were there at the dinner with the governor and that's sparking outrage.




The photos now picked up by media outlets all over the country, The New York Times, The Daily Mail, The New York Post, Politico, The LA Times, and many more in a story that has become a national symbol of do as I say, not as I do.




FOX 11 spoke to Jamie Court about the photos and said, "Well I was shocked, first of all, that they were so close together, and it didn't appear they were outside."




Court is president of the progressive organization Consumer Watchdog and his shock didn't end with what he saw in the photos, but who he saw in them.




A closer look reveals that Janus Norman a top lobbyist for the California Medical Association who is sitting right next to Governor Newsom.






On Newsom's other side is the CEO of the California Medical Association Dustin Corcoran.






Neither of them, as a matter of fact, no one at the table was wearing a mask or social-distancing despite the CMA funding an ad campaign this year urging people to wear masks.




Court says, "The message is to forget the pandemic, sit as close as you can, no face-coverings, no masks, no social-distancing, this is the state's medical association, they speak for the doctors in the state, and their chief lobbyist and the president are sitting shoulder to shoulder with the governor as though its' any time in American history not in the time of a pandemic."




"If I didn't know how long they'd been there and how in with the association they were I would say the medical association should fire the president and lobbyist cause it reflects really poorly on them."




FOX 11 reached out to Norman Corcoran and the CMA for comment but never heard back.


[size=18]On Monday Newsom apologized for what he called 'a bad mistake' in attending a birthday party that broke the very rules that he has been talking about to slow the spread of the coronavirus.
RELATED:
• 

Newsom attended birthday dinner that didn't follow COVID-19 guidelines, regrets decision


• 

Gov. Newsom says he made 'bad mistake' attending pricey party in defiance of COVID-19 guidelines



He has suffered severe political backlash since it surfaced Friday that he and his wife attended the party with a dozen friends at the French Laundry restaurant in wine country north of San Francisco.
FOX 11 spoke to the woman who took the photos and told us:
"While we were there we realized there was a very loud party going on in a room 20 feet from us. It was a bit annoying since you're spending hard-earned money to go there."
She said, "It got louder and louder and so they had some sliding glass doors that they were able to close, so then it was a closed-off room but you could still hear them with how loud they were."
"I just happened to look over and realize hey is that Gavin Newsom, who is that? And I did ask one of the waitresses and she confirmed it was, so I was able to take a couple of photos, I was able to document this especially since nobody was wearing a mask. It was a very large group of people shoulder to shoulder, something that he's always telling us not to do so yeah it was a bit annoying for sure", the woman said.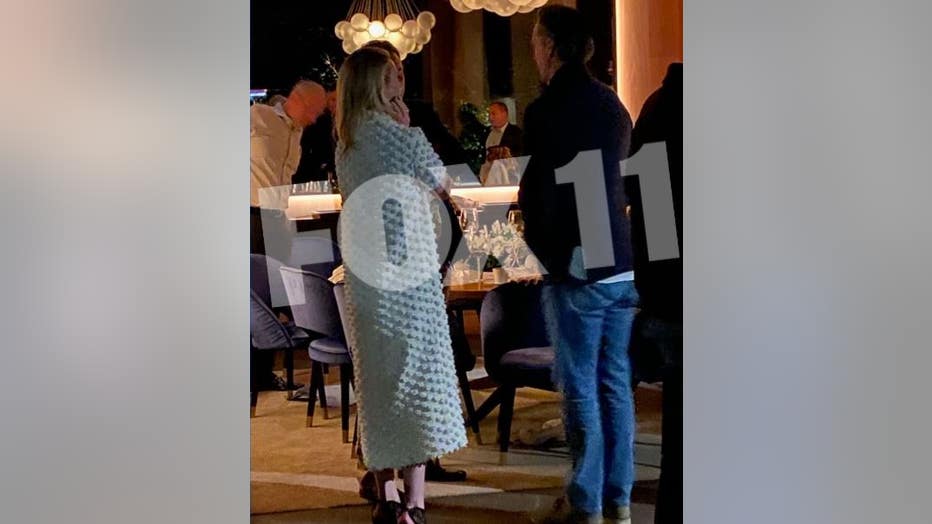 After the woman heard his public apology she said

, "I was surprised because it didn't look like he was uncomfortable being there until the very end until people were looking at him and staring at him as he was leaving the room."




Newsom said he realized as soon as he sat down at the outdoor table that the group was larger than he had expected to celebrate the 50th birthday of Jason Kinney, a political adviser that Newsom said he has known for 20 years.


FOX 11 reached out to

 Newsom's office and they referred us to his previous apology

 and will not comment on the specifics of this report.
A spokesperson for Jason Kinney sent us the following statement:


"The guests and the restaurant followed all applicable state and county public health guidance. The guests specifically required outdoor seating. And that's outdoor seating, as confirmed and provided by the restaurant."  




This Associated Press contributed to this report.

[/size]https://www.foxla.com/news/fox-11-obtains-exclusive-photos-of-gov-newsom-at-french-restaurant-allegedly-not-following-covid-19-protocols

Last edited by CoutCali on 21st December 2020, 7:26 pm; edited 1 time in total

CoutCali

*






San Francisco Mayor London Breed attended French Laundry birthday dinner 1 day after Gov. Gavin Newsom

By Alix Martichoux
Wednesday, December 2, 2020
London Breed's press office has confirmed the San Francisco mayor attended a birthday dinner at swanky Yountville restaurant French Laundry, just one day after Gov. Gavin Newsom did the same.
SAN FRANCISCO (KGO) -- London Breed's press office has confirmed the San Francisco mayor attended a birthday dinner at swanky Yountville restaurant French Laundry, just one day after Gov. Gavin Newsom did the same.

"On Nov. 7, while taking a few days off after the election, she attended a small family birthday dinner for a friend at an open-air table at the French Laundry. There were eight people in total, including herself," press director Andy Lynch told ABC7 News after the San Francisco Chronicle broke the news.



The dinner took place in the same "partially enclosed room" as the now-infamous Newsom gathering, the Chronicle reports.

Lynch went on to say the mayor paid for her own meal and emphasized that, at the time, San Francisco was in the yellow tier, with lower COVID-19 transmission. Napa County, where French Laundry is located, was in the orange tier. Both indoor and outdoor dining were allowed at the time. (Both counties have since moved into the purple tier, banning indoor dining.)


"Now, with cases rising, and Bay Area counties moving back into the purple tier, she is once again limiting her actions and is encouraging all San Franciscans to do the same," Lynch said.


Since his dinner at the French Laundry, and the criticism that followed, Gov. Newsom has apologized for the outing, calling it a "big mistake."

"The spirit of what I'm preaching all the time was contradictory, and I've got to own that," he said.
https://abc7news.com/london-breed-french-laundry-sf-mayor-gavin-newsom-dinner-party/8421970/#:~:text=London%20Breed-,San%20Francisco%20Mayor%20London%20Breed%20attended%20French%20Laundry%20birthday%20dinner,Gavin%20Newsom&text=London%20Breed's%20press%20office%20has,Gavin%20Newsom%20did%20the%20same.
Last edited by CoutCali on 21st December 2020, 7:27 pm; edited 2 times in total

CoutCali

*






San Jose Mayor Sam Liccardo apologizes for disregarding COVID-19 regulations on Thanksgiving
Tuesday, December 1, 2020

[size=14]San Jose Mayor Sam Liccardo issued an apology after news reports that he gathered with extended family for Thanksgiving, contrary to California COVID-19 rules limiting gatherings to no more than three separate households.
[/size]
SAN JOSE, Calif. (KGO) -- San Jose Mayor Sam Liccardo issued an apology Tuesday morning after news reports of him celebrating Thanksgiving with his extended family, disregarding COVID-19 safety regulations.

"I apologize for my decision to gather for Thanksgiving with my family, contrary to the rules," Liccardo wrote on Twitter.



In a statement, the mayor said he and his wife joined four other households for an outdoor dinner at his parents' house in Saratoga for the holiday.
"Eight of us representing five households sat around three distanced tables in our own family groups on the back patio, and we wore masks when not eating," Liccardo wrote.

RELATED: San Francisco Mayor London Breed attended French Laundry birthday dinner 1 day after Gov. Gavin Newsom

Liccardo said his family, along with his brother and parents have been dining together -- socially distanced -- once or twice a week for several months. On Thanksgiving, two other households joined.

Leading up to the holiday, health officials across the Bay Area urged people not to travel or meet up with people outside the household due to the increase in COVID-19 cases across the state. Santa Clara County's Public Health Officer Dr. Sara Cody advised not to meet up with more than two other households.

"The choices that each of us make in the next two weeks may mean the difference between enough hospital capacity to care for all of us and our families and friends and not enough," Dr. Cody said during a virtual press conference.
https://abc7news.com/society/sj-mayor-apologizes-for-breaking-covid-19-rules-on-thanksgiving/8418419/
Last edited by CoutCali on 21st December 2020, 7:31 pm; edited 1 time in total

CoutCali

*






[size=34]Chris Cuomo is 'seen at NYC private members club not wearing a mask' and 'walking around like the mayor' after being accused of hypocrisy and threatened with $500 fine by his apartment for flouting COVID rules[/size]


The CNN host was reportedly seen with Brooke Shields' husband at an unnamed private members club in downtown New York 


Cuomo was 'walking around shaking hands and greeting people without a mask' 


Earlier in the summer, he received a letter from the management in his apartment building threatening him with a a $500 fine


They claimed he had been seen multiple times not wearing a mask in the building


Cuomo's brother Andrew is the governor of New York and made it a state law in April that masks in public places are mandatory 


The CNN host also criticizes Republicans on his show for not taking the virus more seriously 


By JENNIFER SMITH FOR DAILYMAIL.COM
PUBLISHED: 11:36 EST, 26 October 2020 | UPDATED: 12:09 EST, 26 October 2020
Chris Cuomo was seen at the weekend in a New York City members' club not wearing a mask and walking around to greet people as if he were the 'mayor', according to people who were there. 
The CNN host, who had COVID-19 earlier this year, had already been scolded by his apartment building management for not wearing a mask in common areas.
According to sources cited by Page Six on Monday, it did nothing to change his behavior over the weekend. 
Top Articlesby Daily MailDonald Trump hosts ANOTHER get‑together of mostfanatical supporters


Those sources say he was at an unnamed members club, not wearing a mask and shaking people's hands. He was reportedly with Brooke Shields's husband Chris Henchy. 


Cuomo, pictured last month in the Hamptons, was seen in New York City this weekend not wearing a mask 



+5


Cuomo was reportedly with Brooke Shields' husband Chris Henchy. They are shown with their wives in 2017
'He was not social distancing and was walking around indoors, shaking hands and greeting people without a mask.
'He was just hanging with Brooke Shields' husband. 

'It's a double standard when his brother [Gov. Andrew Cuomo] is attacking the restaurant industry and implementing all these senseless rules,' the source said.
It comes after he was threatened with a $500 fine for not wearing a mask in his apartment building. 
The letter was sent to Cuomo on August 6 but was recently leaked to Tucker Carlson on Fox News. 
It stated that Cuomo had been seen several times in his building not wearing a mask.
+5
Cuomo received this letter from the apartment building he lives in on August 6 threatening him with a $500 fine for not wearing a mask 
+5
Cuomo had COVID earlier this year and filmed much of his quarantine for his CNN show, including emerging from his basement after 2 weeks. He has since spent much of his time on-air criticizing Republicans 
[size=18]Chris Cuomo is threatened with a $500 fine for no mask
[/size]
Last edited by CoutCali on 21st December 2020, 7:44 pm; edited 1 time in total

CoutCali

*






[size=46]Dr. Birx traveled to vacation home with family after warning about holiday travel
[/size]
Photo by: Manuel Balce Ceneta/AP
White House coronavirus response coordinator Dr. Deborah Birx holds her face mask as she speaks during a White House Coronavirus Task Force briefing at the Department of Education building Wednesday, July 8, 2020, in Washington. (AP Photo/Manuel Balce Ceneta)
By: Scripps National & The Associated Press
Posted at 7:11 AM, Dec 21, 2020
and last updated 6:11 AM, Dec 21, 2020
WASHINGTON — As COVID-19 cases skyrocketed before the Thanksgiving holiday weekend, the coordinator of the White House coronavirus response warned Americans to "be vigilant" and to limit celebrations to "your immediate household."
For many Americans that guidance has been difficult to abide, including for Dr. Deborah Birx herself.
The day after Thanksgiving, Birx traveled to one of her vacation properties on Fenwick Island in Delaware. She was accompanied by three generations of her family from two households.

Recent Stories from thedenverchannel.com
Top Videos
Stanley Marketplace goesvirtual to help shops
WATCH MORE
WATCH MORE
WATCH MORE
WATCH MORE
WATCH MORE
WATCH MORE
SKIP AD
Kathleen Flynn, whose brother is married to Birx's daughter, told the Associated Press she came forward about the travel out of concern for her own parents, and acknowledged there was family friction over the incident.
Birx confirmed to the Associated Press she traveled to the Delaware property, but declined to be interviewed for the report.
The Centers for Disease Control and Prevention has asked Americans not to travel over the holidays and discourages indoor activity involving members of different households.
Birx joins a growing list of high-profile leaders on the federal and state level who have been criticized for appearing to disregard their own rules and warnings for slowing the spread of the coronavirus.
Most notably, California Governor Gavin Newsom, who is facing a recall effort in his state after he was seen inside a posh restaurant after telling people to avoid socializing.

CoutCali

*







chandoi

*





Đến từ

: Thành Phố Buồn, USA



Priceless! The Obamas Vacation in Hawaii While Peons are Told to Stay Home Alone!
12/24/2020 ~ ANN CORCORAN
I know it is Christmas eve, and I shouldn't spoil the day for you, but I can't resist posting this from reader Paul who directs us to this post at Powerline blog today:
POSTED ON DECEMBER 24, 2020 BY SCOTT JOHNSON IN BARACK OBAMA, LAUGHTER IS THE BEST MEDICINE
BLUE HAWAII
When I saw the photo of President and Mrs. Obama on Twitter (below), I wondered if it was the real deal. It seems to cry out for a thought bubble (or two). Have the Obamas defied the public health guidance handed down by Saint Fauci to head off for vacation in Hawaii? And is the Missus as unhappy as she appears with the contribution of her husband in propelling the kayak on its course? The Daily Mail answered my questions one way or another in
"It takes two, baby! Michelle does all the hard work as she and buff-looking Barack enjoy Xmas kayak trip in Hawaii."
The Obamas leading by example…..
https://twitter.com/ElijahSchaffer/status/1341880178591621120
(For some strange reason the Tweet won't embed, but here is the picture worth a thousand words!)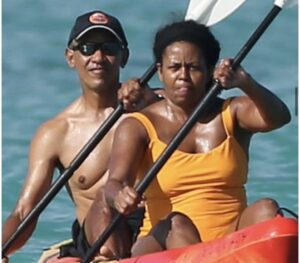 Go to the Daily Mail for more amusing pics.  The story there says the girls are joining them for Christmas.  How about you?  Are your kids traveling this holiday?  I bet not.
I have a serious post at RRW today, and it too involves special rewards for special people—those guardians of the socialist Left.
Dear reader, I know it isn't in your character to make fun of people, but know that we are in a life or death war for the future of the United States and believe it or not, humor is one of the most powerful weapons in your arsenal.  Aim it at the Left because they, of all people, can't stand to be ridiculed!  
Merry Christmas!
https://fraudscrookscriminals.com/2020/12/24/priceless-the-obamas-vacation-in-hawaii-while-peons-are-told-to-stay-home-alone/

CoutCali

*







CoutCali

*






---
Permissions in this forum:
You
cannot
reply to topics in this forum